Poster Session eligibility & requirements available here.
Eligibility
You were an undergraduate student at York during the previous year (even if you have now graduated; if you no longer have access to Passpork York, email us to apply: ugfair@yorku.ca.)
Your art or design work was submitted between January and December 2018 for an undergraduate credit course at York.
Your project received a grade of B+ or higher.
(If you have concerns about this requirement, please contact the Undergraduate Research Fair (ugfair@yorku.ca).
The project was initiated by you for the purposes of the course (i.e., not done under the auspices of another project or as a research assistantship for a faculty member).
Group projects are accepted as long as every member of the group gives permission.
Maximum dimensions of physical work — 8 feet tall x 12 feet wide x 2 feet deep. (Photographic reproductions may be acceptable if the piece is too large to display.)
Work must be prepared for display (e.g., for hanging work, hooks on either side).
For other formats (e.g., digital), please contact ugfair@yorku.ca to discuss.
You can submit up to two applications to exhibit artwork in the Scott Library ArtWalk. (Art exhibitors don't have to be present during the Fair.)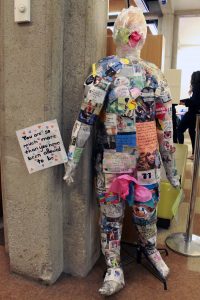 Not eligible:
Work that cannot be reproduced on the cover of Revue YOUR Review or displayed at the Fair. Still images of digital work are acceptable.
Work completed for a non-credit course.
Work done for purposes other than coursework.
Work led by faculty or other lead researchers.
Work that has already been published; however, previous exhibition of the work

is

acceptable.
Participant Obligations
If your submission is accepted, you will:
Confirm your participation by email to ugfair@yorku.ca.
Deliver the physical work, along with a high resolution photograph suitable for publication, to ugfair@yorku.ca by Feb 20, 2019.
Give permission for your work:

to be displayed in the ArtWalk of the Scott Library Collaboratory for two months.
to be published on the front cover of Revue YOUR Review (if selected for first prize).
To be included in the e-journal Revue YOUR Review.

You are encouraged to invite friends, family, and faculty to the Fair. (We will provide you with an official invitation to share.)